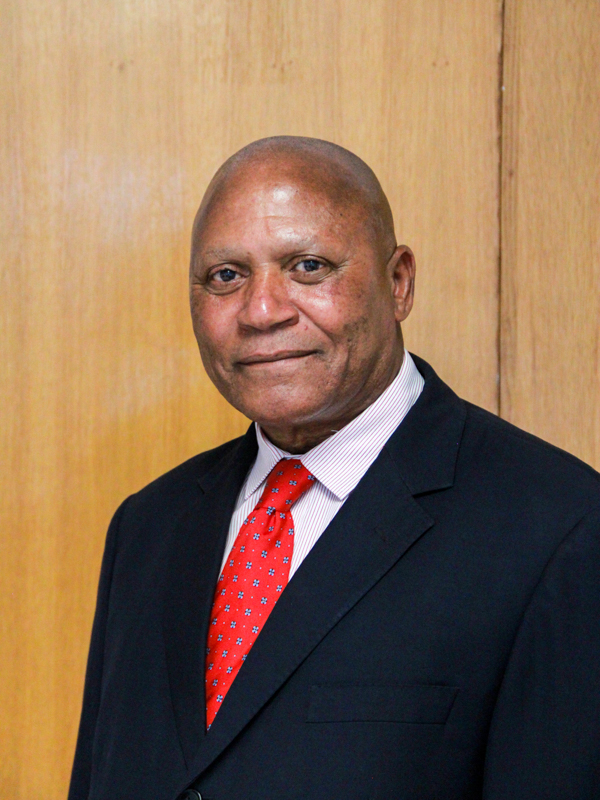 Commissioner Dr Golden Chekenyere
Dr. Golden Chekenyere graduated from the University of Sierra Leone (Fourah Bay College) with a BA, then completed a Post Graduate Certificate in Education from West Midlands College of Further Education (United Kingdom).  Dr. Chekenyere holds an Msc in Education, and a Ph.D. also in Education from the University of Wisconsin at Madison in the USA.
In an illustrious career, Dr. Chekenyere has a varied Human Resources Management experience; International Development Experience, Finance and Financial Services experience spanning a period of twenty-six (26) years, including Consultancy Services.
Dr. Chekenyere has worked at USAID Zimbabwe (1984-1989) in the Steel Works and Irrigation Industry at Industrial Steel and Pipe and Stewarts and Lloyds (1989-1989) the Finance and Financial Services Industry and Banking at ZimBank (1989-1997); established Southern Region Management Consultancy Services (1997-1999); worked in one of Zimbabwe's largest Milling Companies, National Foods Limited as its Group Human Resources Executive Director (1999-2009).
At USAID, Dr. Chekenyere worked on one of the most elaborate and far reaching Human Capital and Education Programs in Zimbabwe.  At Industrial Steel and Pipe, Dr. Chekenyere was exposed to Steel Manufacturing and Irrigation Systems Development (1989-1997).  As Head   of Human Resources at Zimbank, Dr. Chekenyere was not only exposed to state of the Art Human Resources Management Tools, but also to Financial Reporting Basics such as; Balance Sheets, Income and Expenditure Statements and Statements of Cash flows etc.
In 1997, Dr. Chekenyere formed Southern Region Management Consultancy, (1997-1999) which consulted mostly in Financial Institutions and Banking.  For two years (1997-1999) Dr. Chekenyere was appointed External Chairman of the Hippo Valley Estates and Triangle Sugar Milling Industry Collective Bargaining Negotiations.
As Executive Director and Group Human Resources Director at National Foods Limited (1999-2009) Dr. Chekenyere, besides Human Resources Policy Formulation and Implementation, was involved in aspects of Change Management and Group Continuous Improvement and Organizational Restructuring in response to the harsh Macro-Economic Environment negatively affecting Business at that time.
Finally, for four years (2003-2007) Dr. Chekenyere was a Non –Executive Board Director at Agribank, Chairing the Human Resources Management Sub-Committee.  While sitting on the various Boards as indicated above, Dr. Chekenyere was exposed to Finance and Financial Management basics and therefore has wide experience in matters of Finance and Human Resources.
Throughout my long career, my Peace Building work centred mostly on negotiations, conciliation and mediation over contestations on Financial Resources, mostly salaries and wages and also the promotion of harmonious Industrial Relations in the organisations I worked in.
Bread and butter conflicts and the contentions issue of Retrenchments in the organisations I worked in were quite challenging, strikes and threats of strikes were the norm, and so one had to have the acumen and experience of bringing Peace in the organisations which I mentioned above. Commissioner Dr. Chekeneyere also sat on several National Employment Councils such as the Zimbabwe Banks and Allied Employment Council, where the Zimbabwe Banks and Allied Workers Union were quite militant. Also, Commissioner Chekenyere sat on the Zimbabwe Milling Industry Employment Council with the Zimbabwe Milling Industry Workers Union where strikes, threats of violence and lockdowns were also the norm. Throughout my career I have dealt with and resolved challenges relating to bread and butter issues (salaries and wages) and which soured Industrial Relations in the organisations I worked in and these conflicts had to be resolved whenever they erupted as indicated above.