Commissioner Chiradza, General Managers meet Community Based Organisations.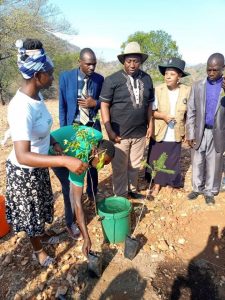 Commissoner Chiradza and General Managers Mrs Mawema and Mr Mashingaidze met with community based organizations and their members in Mukwada Village. The CBOs have been lobbying the government and mining companies to prioritize infrastructure development (roads, schools, clinics, water, housing etc), employment of locals, respect for environmental rights as well for a quota of mining claims so that the Marange community also benefits from its local resources. NPRC urged the community to explore collaborative rather than combative engagement and to work towards transforming relationships with government and the mining companies in line with the theme of the commemorations,
"Building sustainable partnerships for development"
Peace is our collective responsibility.
Ukuthula ngumlandu wakho lami
Runyararo ibasa rako neni