NPRC engages the National and Provincial Police Commanders
NPRC engages the National and Provincial Police Commanders on a Consensus Building/Capacity Enhancement Workshop. The NPRC explains it's mandate which is enshrined in section 252 of the constitution. The mandate of the NPRC explains what it was created to do.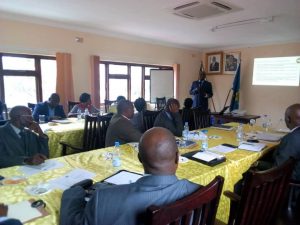 The broad functions of the NPRC are therefore the following:
a) To ensure post conflict justice,healing and reconciliation.
b)To develop and implement programmes to promote national healing,unity and cohesion in Zimbabwe and peaceful resolution of disputes.
c) to bring about national reconciliation by encouraging people to tell the truth about the past and facilitating the making of amends and the provision of justice.
d) to develop procedures and institutions at a national level to facilitate dialogue among political parties,communities,organisations and other groups,in order to prevent conflicts and disputes arising in the future.
e) to develop programmes to ensure that persons subjected to persecution, torture and other forms of abuse receive rehabilitation treatment and support
f) to receive and consider complaints from the public and to take such action in regard to the complaints as it considers appropriate.
g) to develop mechanisms for early detection of areas of potential conflicts and disputes,and to take appropriate preventive measures.
h) to do anything incidental to the prevention of conflict and the promotion of peace.
I) to conciliate and mediate disputes among communities, organisations, groups and individuals.
j) to recommend legislation to ensure that assistance, including documentation, is rendered to persons affected by conflicts ,pandemics or other circumstances.
The NPRC mandate is further explained in the NPRC Act (Chapter 10:32) in section 3(2) (a) $(b) which prescribes that the NPRC has power to investigate and conduct research.
The essence of the engagement is to identify areas where the two constitutional bodies share synergies and how they can maximize the synergies in executing their respective mandates of promoting peace, law and order, conflict prevention and resolution.